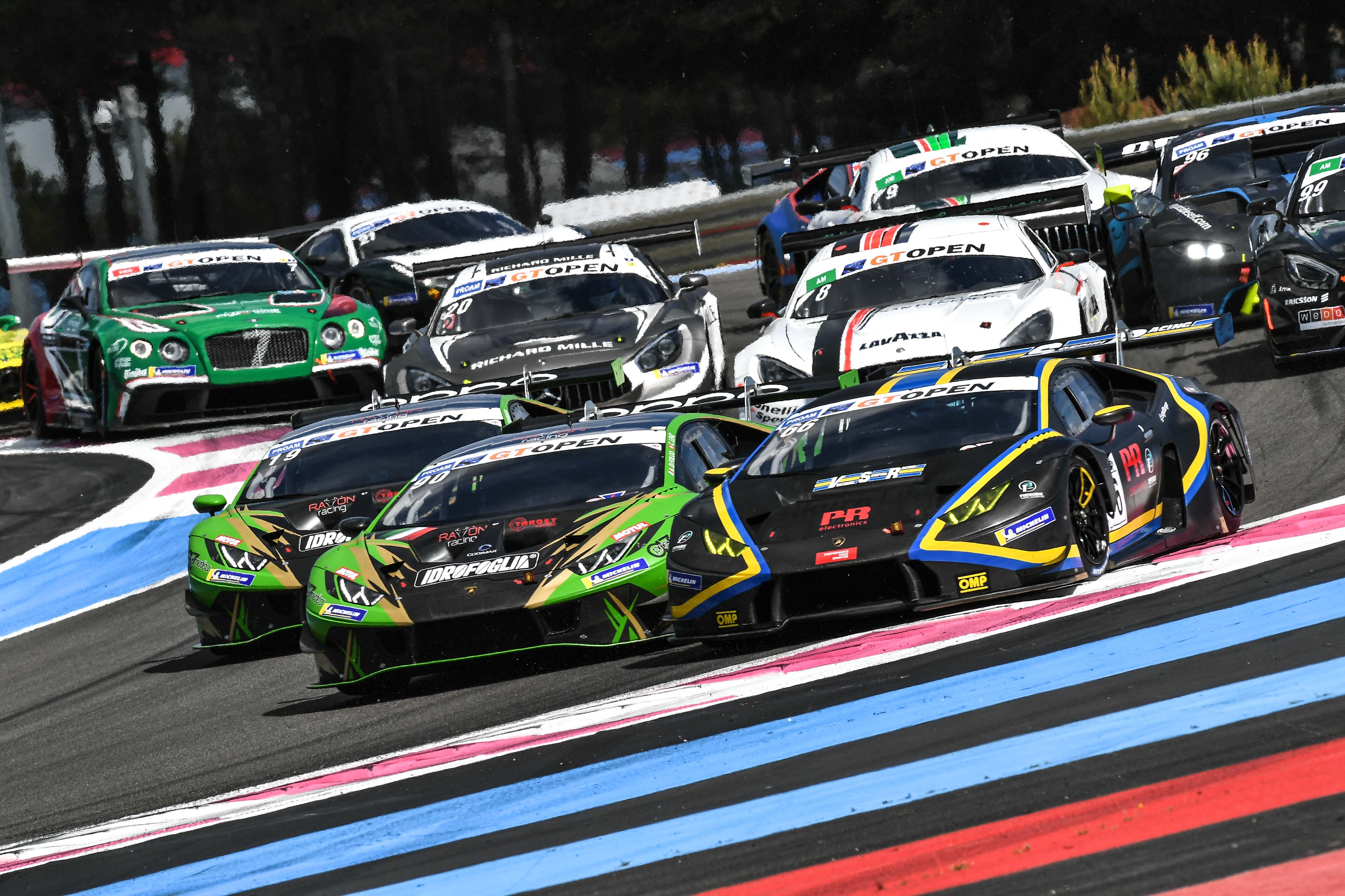 28th April, 2019 – International GT Open, Paul Ricard
VSR drivers Kang Ling and Frederik Schandorff scored Pro-Am points in both of the International GT Open races which took place this weekend at Paul Ricard. On Saturday they finished fifth in class and on Sunday sixth after contact from another car denied them a podium finish.
Ling and Schandorff took charge of the VSR Lamborghini GT3 Huracan at Paul Ricard this weekend, competing in the hotly contested Pro-Am category of the International GT Open Championship. Schandorff qualified the Lambo for race one and took a place on row eight, sixth fastest in Pro-Am.
The Dane rocketed away at the start, passing five cars on the opening lap and moving into fourth in class. For five laps he battled with Di Folco before the Italian found a way past and for the rest of his stint showed good pace as he pushed to catch up to the train of cars blocked behind Zampieri in the second placed Mercedes. On lap fourteen the pit window opened and Schandorff came in to hand over to Ling. The Chinese driver was running fourth in class when the pit window closed seven laps later and after a further tour took third from Lenz. He pushed hard to close up to class leaders Hahn and Habul but behind him was the reigning 2018 Champion Onslow-Cole closing in fast. On lap twenty-three the English driver slipped past and Ling followed him as the pair caught up to Habul. By lap twenty-seven Ling had his mirrors full of Giammaria's Lamborghini and the Italian factory driver was the fastest man on track. Ling held him off until lap thirty one and three laps later took the chequered flag fifth in class, just six tenths behind the fourth placed car.
It was Ling's turn to qualify on Sunday morning and he set a time good enough for fifth in Pro-Am. A crash at the start bought the safety car out for three laps and Ling avoided the incident and picked up three places. At the restart he gained another position, decisively passing Cipriani for twelfth place, but on lap seven lost out to Chaves in the McLaren who was making his way through the field after being involved in the first lap accident. When the pit window opened Ling was just sixteen seconds behind the race leader and pitted immediately to avoid losing time behind De Marco who had been holding him up. Schandorff took over and when the pit window closed was running ninth overall, ten seconds behind the battling group of four Pro-Am cars ahead. By lap twenty-one Schandorff had caught the fight and was quickly past Pierburg's Mercedes and into fourth in class. A podium finish looked certain until on twenty-four he was tapped into a spin by Pohler and slipped down to sixth in class. He took the chequered flag half a second behind the fifth placed Pro-Am Lamborghini of Di Folco having pushed hard to regain the lost time.
The second round of the International GT Open will be held next month at the Hockenheimring in Germany.